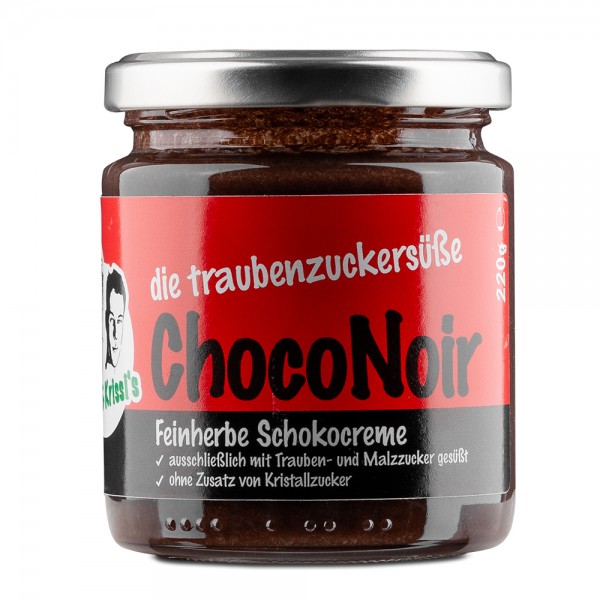 Choco Noir - fine dark Chocolate Cream 250g
Prices incl. VAT plus shipping costs
(23.96€ * / 1 Kilogram)
low-fructose
wheat flour-free
Fructose and wheatflour free, fine dark chocolate cream - delicious!
Inhalt:

0.25 Kilogram

Order number:

SA0001
Ready to ship today,
Delivery time appr. 1-4 workdays
ü fructose free
ü wheat flour free
After opening, be sure to store in the refrigerator!
---
Average nutritional values (per 100 g):
Calories
2.160 kJ/ 516 kcal
Fat
37,2 g
Saturated Fat
23,7 g
Carbohydrates
37,6 g
Total Sugar
27,2 g
Fibres
2,4 g
Protein
5,9 g
Salt
< 0,2 g

---

Contained Sugar:
Glucose
9,2 g
Maltose
12,1 g
Fructose
< 0,1 g
Lactose
5,8 g
Ingredients: Butter (40%), glucose syrup (dextrose, maltose), cocoa powder (8%), whole milk powder (6%), skimmed milk powder (6%), salt, vanilla aroma
Notice:
The ChocoNoir are for at least 12 months durable (from production date).
Cooked with love and filled by hand - this can lead to small fluctuations in the filling quantity (approx. 250 g net).
Produced in Germany.